About Me
👋 I'm Samantha Ming, a Front End Developer from Canada. I love to learn and discover all things JavaScript, HTML, and CSS. You can catch my code tidbits on Instagram and Twitter .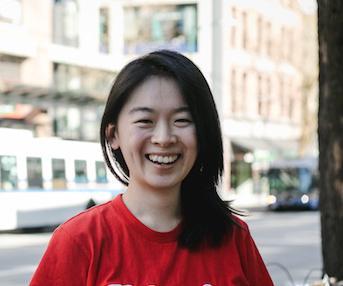 So you're here to learn more about me. Excellent! I love talking about myself 😝. How did I get into tech? I love learning new things. Naturally, tech was the perfect place to be. It's always changing and always moving forward. First, there was jQuery, then Angular, then React, and now we have Vue.Js. Holy moly! Some people might find this overwhelming but I love it. You'll never run out of things to learn. #StudentMindset
Beside being a developer, I'm also a Podcaster. I founded and host a podcast called the Events Podcast. This has been a super fun experience for me. I had no idea what I was doing, but I dived right in. I learned by actually doing it. What I learned from this experience is "don't worry about failing, focus on trying".
Currently, I'm working as a Frontend Engineer at GitLab. You can follow my journey of becoming a Senior developer in my #SamDocs series on Instagram Story!
Code Tidbits are byte size snippets that is info-nutritious for all developers. It's like a supplement you take to keep that programming brain sharp. I share new tidbit every week on my Instagram and Twitter .
Here are my recommendation lists if you're interested in what tools I use, courses I like, my podcast picks, or this site's tech stack.
This is the first courses I created. Learn Flexbox in 30 days. It was a big success, amassing over 850+ stars on GitHub. I plan on releasing more courses. So stay tuned. Read the FREE course now!
I love sharing what I've learned. I've spoken at high schools, colleges, and tech companies. From my experience on how I grew my personal brand to 20k+ within a year OR how I switched careers into tech without a CS degree OR how kindness has made me more successful. My goal is to bring value, motivate action, and inspire kindness in your audience! Learn more about my previous speaking events , and invite me to speak !
Got a question for me or would like to get in touch, contact me !